Minions
On this page, we introduce you to the minions of We Are Prophet.
Minion Properties
Different minion types have different strengths and weaknesses which can be broken down to the following areas:
Speed
It may surprise you, but speed describes how quickly a unit can move.
Persuasion
The persuasion value of a minion type describes how quickly it can convince other minions in a conversation. It also describes how fast a unit can claim a tile on the map for your faction.
Willpower
Willpower describes how good a minion can resist attempts to change their conviction. The higher this value is, the longer a conversation with them will take.
Minion Types
There are 5 different minion types in the game which we explain in the following sections. Their main shirt color will indicate their current conviction. Minions without a conviction wear a gray shirt and since life without belief is pretty pointless, they only walk at half the speed of convinced minions.
The Prophet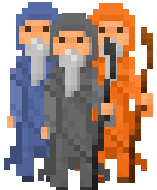 This is the core unit of the game. Every player starts with a Prophet. The Prophet can't be convinced. He is the shining light of your conviction! But no one knows how old he is, he might be older than time itself and therefore he moves and speaks slowly. It may take time to win a conversation with him… but eventually he will convince anyone except other prophets!
| | |
| --- | --- |
| Speed: | |
| Persuasion: | |
| Willpower: | |
The Little Child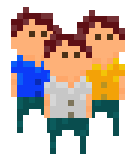 The Little Child is by far the fastest minion in the game. Its high speed makes it a valuable part of your team. But be aware! Due to the Little Child's lack of experience it is hard to convince someone with it and some sweets are enough to convince it to change sides again.
| | |
| --- | --- |
| Speed: | |
| Persuasion: | |
| Willpower: | |
The Young Man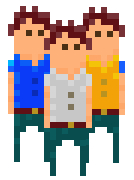 The Young Men is in the prime of his life. It is hard to outrun him, he has a solid capability of convincing people and furthermore you need some arguments to turn him to your side! Never underestimate this strong allrounder or he will put you down!
| | |
| --- | --- |
| Speed: | |
| Persuasion: | |
| Willpower: | |
The Gospel Woman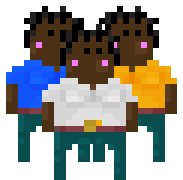 The Gospel Woman loves to sing and as everyone knows music is one of the greatest gifts to human kind. When joining a conversation with the Gospel Woman, she will easily sing you down and turn you into a true believer! So be careful, she is the strongest unit on the field when it comes to convincing. Unfortunately, she has big bones and her mind always thinks about new songs. This makes her a bit slow. Also, a group of people could manage to convince her to sing some new songs.
| | |
| --- | --- |
| Speed: | |
| Persuasion: | |
| Willpower: | |
The Grandpa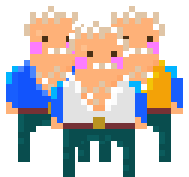 The Grandpa is a great unit to control your enemy. Simply no one wants to talk to him. It is so hard to convince him and even though he is slow and not the best in convincing other minions he is a solid part of your team, because he can engage foes in long and pointless conversations!
| | |
| --- | --- |
| Speed: | |
| Persuasion: | |
| Willpower: | |